The Price of Polygamy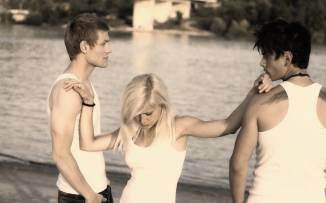 It's argued that humans are not programmed to have one life partner. Anthropologist Margaret Mead went so far as to suggest that monogamy was the hardest of all human marital arrangements. And it would seem more of us agree – times are changing.
In The Myth of Monogamy: Fidelity and Infidelity, Mark Ryan and Carole Hausmann Ryan say that DNA fingerprinting of parents and offspring show nine out of 10 mammal and bird species that mate for life are sexually unfaithful.
Ane Robert White writes in The Moral Animal: Evolutionary Psychology and Everyday Life, that nearly 1000 of the 1154 past or present human societies studied have permitted a man to have more than one wife.
Monogamy it seems, is on the decline and with it, honesty.
About 65 per cent of marriages break up because of adultery, and most often as the result of affairs with workmates.
Almost 70,000 Sydneysiders alone have signed up to the website ashleymadison.com, which proudly promises, "Affairs guaranteed. Cheating partners have an affair, Married dating".
"It's not the lipstick on the collar that gets you busted in 2010, it's the text message or that voicemail you left behind," said founder and CEO of ashleymadison.com Noel Biderman.
He said the idea was to keep the communications on ashleymadison.com, ''so you're not motivated to take it to your personal email or anywhere else you can be discovered. It's kept there and you can delete it at a push of a button".
Emma*, 40, signed up to ashleymadison.com three months ago for a "little bit of excitement".
Married for 10 years and with two young children, she has had eight partners within this time. Her husband has not been told about her extramarital activities.
Emma claims she is not in a happy marriage and is staying in the relationship for the sake of her children.
"It's like something for me which I can keep to myself," she said.
"It was purely sexual to begin with," she said of her encounters. She now has two regular partners along with her husband.
"But it has become emotional as in friendship. I look forward to seeing these two particular men. I see them regularly and I'm getting to know them."
Emma claims the men on the website, who are about her age or younger, are in the same situation. Not leaving their wives because they don't want to break up the family.
"A lot of them still really love their wives and want to be with them in that way, but their wives are a bit shut down sexually or they're caught up with kids."
Emma says her affairs are keeping her marriage together.
"I feel happier, I appreciate him more, appreciate his love. He's a good father and husband. I definitely have a better sexual and emotional relationship with him now."
But the truth is something Emma plans to keep to herself.
"It's more just that I don't want to hurt him, I don't what him to think he's not good enough for me. It's just to protect him."
Sex and relationship therapist for Sex Therapy Australia Pamela Supple, says that there's nothing new about infidelity but that today's society still wants monogamy.
"People tend to want to be with the one partner in a committed relationship, whether it's marriage or living together,'' she said.
"Infidelity is just more out in the open these days, people talk about it more."
But Ms Supple warns that although the idea of polygamy may seem fun, it does have its consequences.
"You have to live with your choices, if there are problems in the relationship and you go looking elsewhere for extra marital affairs, you have to think why are you doing that? What do you get out of that?" she said.
"In my opinion, infidelity doesn't make for a good relationship. Unless it's agreed upon and you have an open relationship," she said.
The institution of marriage is certainly not a static one, and it seems the time is rapidly approaching when polygamy will become more common and perhaps more acceptable. Only time will tell.
* Names have been changed for this article
For further information on Noel Biderman and his website, visit ashleymadison.com
For further information on Pamela Supple and Sex Therapy Australia, visit sextherapyaustralia.com.au
From Nine to Five Sydney City Magazine - June 2010